X-treme Wrestling Federation BOARDS
»
XWF Live!
User(s) browsing this forum: 5 Guest(s)
X-treme Title Rules
CURRENT CHAMPION:


JIM CAEDUS




BRIEFCASE COUNTDOWN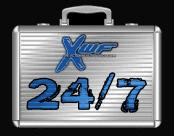 WEEKS AS CHAMPION: SEVEN

OFFICIAL DEFENSES: THREE (One scheduled)





The following rules have recently been updated. Be sure to read below!

No pin attempts during someone else's attempt. Do not reply to a kickout.. once the champ kicks out that thread is over. Do not keep pinning over and over. After 2 kickouts let another person attempt a pin before you try again. Do not pin more than 6 times in the same calendar week (Sunday thru Saturday)... If you reply in a thread that was your own pin attempt originally, you void the pin, even if you were "tricked" into doing it and even if the person tricking you into doing it has violated the "do not reply" rule. Don't get tricked!



*BIG PERKS for holding on to the 24/7 title!


*For every 3 weeks a person can remain X-treme Champion, they earn 1 Tag Title Shot. We currently don't allow double champions for singles titles, but we do allow a person to hold 1 singles and 1 tag title. It's up to YOU to recognize when this time has elapsed and bring it to the attention of XWF staff when you want to claim your Tag shot. If you claim your Tag shot and LOSE that match, but are still the X-treme Champion, you may claim another Tag shot if you can hold it for another 3 weeks starting from the date of your Tag loss.

*After holding it for 8 full weeks, and having been actively defending the title in officially BOOKED matches for at least 5 of those weeks (meaning 5 or more successful defenses on official cards), the holder of the X-Treme Title earns a "Money in the Bank" style shot at ANY non-vacant title. We will call it THE X-TREME 24/7 BRIEFCASE! The way this will work is the RPing of the "possible victim" gets weighed against the RPing of the X-treme Champ for that week (going by the RP-week schedule of the show the victim is on) even though the possible victim had no idea this was going to happen. It doesn't even matter which RP board the briefcase holder RPs on that week, so the person cashing in might RP on a different show's RP board and all the RPs that get posted during the week (covering the days that are active on the champion's show's RP-week) will count toward the cash in. This may allow the X-treme Champ to out-RP the Champion he is targeting with the Champ having NO clue until the results go live! This could REALLY piss off the victim if they lose their title unexpectedly to the X-Treme 24/7 Champion! If this happens, the victim will get a future rematch as soon as possible, just to keep things fair. (note: once a person earns this briefcase, they remain in possession of it EVEN IF they lose the X-Treme Title before they cash it in)

If the champ doesn't respond within 12 hours of the pin, the challenger wins.

Attacker must include a pin for storyline purposes.

Champion must include a kick out as well.
24/7 X-treme Championship

Thread / Author
Replies
Views
Rating
Last Post [asc]
Important Threads

Attention Attackers! Current Champion:
Jim Caedus

0
759

5 Vote(s) - 4.2 out of 5 in Average

04-11-2019 06:20 AM
Last Post: "Loverboy" Vinnie Lane
Normal Threads
1
166

0 Vote(s) - 0 out of 5 in Average

yesterday 11:51 AM
Last Post: JimCaedus
3
137

0 Vote(s) - 0 out of 5 in Average

10-13-2021 02:34 PM
Last Post: Hotdog
1
152

0 Vote(s) - 0 out of 5 in Average

10-11-2021 08:07 PM
Last Post: JimCaedus
1
161

0 Vote(s) - 0 out of 5 in Average

09-24-2021 12:14 AM
Last Post: JimCaedus
1
126

0 Vote(s) - 0 out of 5 in Average

09-17-2021 09:38 PM
Last Post: JimCaedus
2
215

0 Vote(s) - 0 out of 5 in Average

09-09-2021 09:40 AM
Last Post: "Loverboy" Vinnie Lane
1
198

0 Vote(s) - 0 out of 5 in Average

09-08-2021 04:38 PM
Last Post: JimCaedus
1
176

1 Vote(s) - 5 out of 5 in Average

08-30-2021 10:14 PM
Last Post: JimCaedus
1
235

1 Vote(s) - 5 out of 5 in Average

08-26-2021 08:51 PM
Last Post: JimCaedus
1
123

0 Vote(s) - 0 out of 5 in Average

08-25-2021 08:02 AM
Last Post: JimCaedus
2
253

1 Vote(s) - 5 out of 5 in Average

08-23-2021 10:49 PM
Last Post: Atara Themis
1
180

0 Vote(s) - 0 out of 5 in Average

08-22-2021 12:48 PM
Last Post: JimCaedus
1
122

1 Vote(s) - 5 out of 5 in Average

08-19-2021 12:07 AM
Last Post: JimCaedus
1
71

0 Vote(s) - 0 out of 5 in Average

08-15-2021 08:03 PM
Last Post: Corey Smith
1
85

0 Vote(s) - 0 out of 5 in Average

08-15-2021 09:03 AM
Last Post: Corey Smith
1
127

0 Vote(s) - 0 out of 5 in Average

08-12-2021 02:56 PM
Last Post: Corey Smith
1
126

0 Vote(s) - 0 out of 5 in Average

08-09-2021 06:17 PM
Last Post: Corey Smith
1
101

0 Vote(s) - 0 out of 5 in Average

08-06-2021 08:21 PM
Last Post: Corey Smith
1
108

0 Vote(s) - 0 out of 5 in Average

08-04-2021 12:33 PM
Last Post: Corey Smith
7
262

0 Vote(s) - 0 out of 5 in Average

08-04-2021 11:02 AM
Last Post: Dolly Waters
3
436

0 Vote(s) - 0 out of 5 in Average

08-04-2021 10:35 AM
Last Post: Corey Smith
3
182

0 Vote(s) - 0 out of 5 in Average

08-03-2021 02:11 PM
Last Post: MrBoB
1
113

0 Vote(s) - 0 out of 5 in Average

08-02-2021 04:34 AM
Last Post: Corey Smith
1
115

1 Vote(s) - 3 out of 5 in Average

08-01-2021 09:29 PM
Last Post: Corey Smith
1
120

0 Vote(s) - 0 out of 5 in Average

08-01-2021 08:36 PM
Last Post: Corey Smith
1
131

0 Vote(s) - 0 out of 5 in Average

07-30-2021 10:46 AM
Last Post: JimCaedus
1
102

0 Vote(s) - 0 out of 5 in Average

07-24-2021 08:29 PM
Last Post: JimCaedus
3
175

0 Vote(s) - 0 out of 5 in Average

07-23-2021 05:45 PM
Last Post: Jim "the Jim" Jimson
4
176

0 Vote(s) - 0 out of 5 in Average

07-23-2021 11:20 AM
Last Post: JimCaedus
2
132

0 Vote(s) - 0 out of 5 in Average

07-22-2021 12:51 PM
Last Post: Charlie Nickles
1
155

0 Vote(s) - 0 out of 5 in Average

07-22-2021 07:57 AM
Last Post: JimCaedus
1
88

1 Vote(s) - 3 out of 5 in Average

07-19-2021 01:16 PM
Last Post: Lycana
4
150

0 Vote(s) - 0 out of 5 in Average

07-19-2021 09:00 AM
Last Post: Marf
2
104

0 Vote(s) - 0 out of 5 in Average

07-16-2021 11:19 PM
Last Post: Thias Watts
2
210

0 Vote(s) - 0 out of 5 in Average

07-14-2021 06:25 PM
Last Post: Lycana
1
121

0 Vote(s) - 0 out of 5 in Average

07-07-2021 09:45 PM
Last Post: Lycana
1
106

0 Vote(s) - 0 out of 5 in Average

07-06-2021 09:53 AM
Last Post: Lycana
3
206

0 Vote(s) - 0 out of 5 in Average

07-06-2021 09:43 AM
Last Post: Lycana
2
272

0 Vote(s) - 0 out of 5 in Average

06-26-2021 07:19 PM
Last Post: JimCaedus
1
126

0 Vote(s) - 0 out of 5 in Average

06-26-2021 12:22 PM
Last Post: Lycana
1
142

0 Vote(s) - 0 out of 5 in Average

06-24-2021 06:24 PM
Last Post: Lycana
1
138

0 Vote(s) - 0 out of 5 in Average

06-22-2021 09:19 PM
Last Post: Lycana
1
201

0 Vote(s) - 0 out of 5 in Average

06-21-2021 04:43 PM
Last Post: Lycana
1
166

0 Vote(s) - 0 out of 5 in Average

06-21-2021 12:48 AM
Last Post: Lycana
1
242

0 Vote(s) - 0 out of 5 in Average

06-19-2021 04:04 PM
Last Post: Lycana
1
225

0 Vote(s) - 0 out of 5 in Average

06-18-2021 12:11 PM
Last Post: Lycana
1
224

0 Vote(s) - 0 out of 5 in Average

06-17-2021 05:30 AM
Last Post: Lycana
1
320

0 Vote(s) - 0 out of 5 in Average

06-15-2021 07:32 PM
Last Post: Lycana
4
382

0 Vote(s) - 0 out of 5 in Average

06-15-2021 12:26 PM
Last Post: JimCaedus
1
274

0 Vote(s) - 0 out of 5 in Average

06-11-2021 06:50 AM
Last Post: Lycana
1
212

0 Vote(s) - 0 out of 5 in Average

06-07-2021 03:30 PM
Last Post: Lycana
1
241

0 Vote(s) - 0 out of 5 in Average

06-06-2021 07:44 PM
Last Post: Lycana
1
199

0 Vote(s) - 0 out of 5 in Average

06-06-2021 05:47 PM
Last Post: Lycana
1
171

0 Vote(s) - 0 out of 5 in Average

06-06-2021 05:18 PM
Last Post: Lycana
1
253

0 Vote(s) - 0 out of 5 in Average

06-05-2021 02:56 PM
Last Post: Lycana
1
264

0 Vote(s) - 0 out of 5 in Average

06-04-2021 08:51 PM
Last Post: Lycana
1
214

0 Vote(s) - 0 out of 5 in Average

06-04-2021 04:40 AM
Last Post: Lycana
1
201

0 Vote(s) - 0 out of 5 in Average

06-03-2021 10:42 AM
Last Post: Lycana
1
228

0 Vote(s) - 0 out of 5 in Average

05-31-2021 05:30 PM
Last Post: Lycana
1
192

0 Vote(s) - 0 out of 5 in Average

05-31-2021 01:09 AM
Last Post: Lycana
1
177

0 Vote(s) - 0 out of 5 in Average

05-30-2021 10:10 PM
Last Post: Lycana
1
253

0 Vote(s) - 0 out of 5 in Average

05-30-2021 09:18 PM
Last Post: Lycana
1
162

0 Vote(s) - 0 out of 5 in Average

05-29-2021 11:11 AM
Last Post: ALIAS
1
176

0 Vote(s) - 0 out of 5 in Average

05-28-2021 12:20 AM
Last Post: ALIAS
1
163

0 Vote(s) - 0 out of 5 in Average

05-26-2021 04:23 AM
Last Post: ALIAS
1
210

0 Vote(s) - 0 out of 5 in Average

05-25-2021 01:04 AM
Last Post: ALIAS
1
258

0 Vote(s) - 0 out of 5 in Average

05-24-2021 04:13 PM
Last Post: ALIAS
3
349

0 Vote(s) - 0 out of 5 in Average

05-19-2021 07:10 PM
Last Post: ALIAS
1
192

0 Vote(s) - 0 out of 5 in Average

05-17-2021 05:07 PM
Last Post: ALIAS
7
620

0 Vote(s) - 0 out of 5 in Average

05-15-2021 03:37 PM
Last Post: (Gravy_Xtreme_5000)
1
198

0 Vote(s) - 0 out of 5 in Average

05-14-2021 07:10 PM
Last Post: ALIAS
1
196

0 Vote(s) - 0 out of 5 in Average

05-13-2021 06:49 AM
Last Post: ALIAS
15
555

0 Vote(s) - 0 out of 5 in Average

05-11-2021 02:47 PM
Last Post: Charlie Nickles
1
214

0 Vote(s) - 0 out of 5 in Average

05-11-2021 05:40 AM
Last Post: ALIAS
New Posts
Hot Thread (New)
Hot Thread (No New)
No New Posts
Contains Posts by You
Locked Thread