X-treme Wrestling Federation BOARDS
»
Calendar
»
XWF
XWF Presents: Fire and Ice 2 - Double Cross
11-26-2023, All Day


11 - 26 - 2023


---

LIVE FROM EDINBURGH CASTLE, SCOTLAND


---
---
PRE SHOW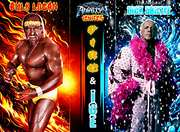 Anarchy Ignites:

Fire

&

Ice

!
Featuring Bulk Logan taking on Dick Drizzle in singles action!


EDWARD ©
- vs -
CENTURION
1 rp/1k - Coal Miners Glove
NED KAYE
- vs -
CHRIS PAGE
6k rp word cap - Standard Singles Match


TOMMY WISH ©
- vs -
CRAM
2 rps/3k -Tonmy names the match stip in his first promo


"THE JUST-US LEAGUE
THE ATOMIC BAT AND THE BLUE TANGO
- vs -
BOBBY BOURBON AND MARK FLYNN
2 rps/Unlimited - "Braveheart" Tag Team Match
Ring will be surrounded with medieval era weapons

SEAN PARKER
- vs -
THADDEUS DUKE
1 RP/4K - Standard Match


B.O.B. D ©
- vs -
DIONYSUS
2 rps/Unlimited - Xtreme Rules


THUNDER KNUCKLES©
- vs -
ISAIAH KING
3RPs/3k - Single Combat - Battle Of The Sloth and Cat
OOC: Default RP rules are PPV Rules; 2 RPs with a 2k word limit.
Universal Championship - Champs choice (At minimum must be 3 RPs/3k)
Xtreme Championship - 2 RPs/unlimited
Television Championship - 2 RPs/3k
Tag Team Championships - Champs choice (2 RPs/3k or 2 RPs/unlimited)

Soft deadline (at least 1 RP must be posted before this time) will be September 16th 11:59pm board time. Hard Deadline will be September 23rd 11:59pm board time. Good luck!
Supercharged by
MyBB